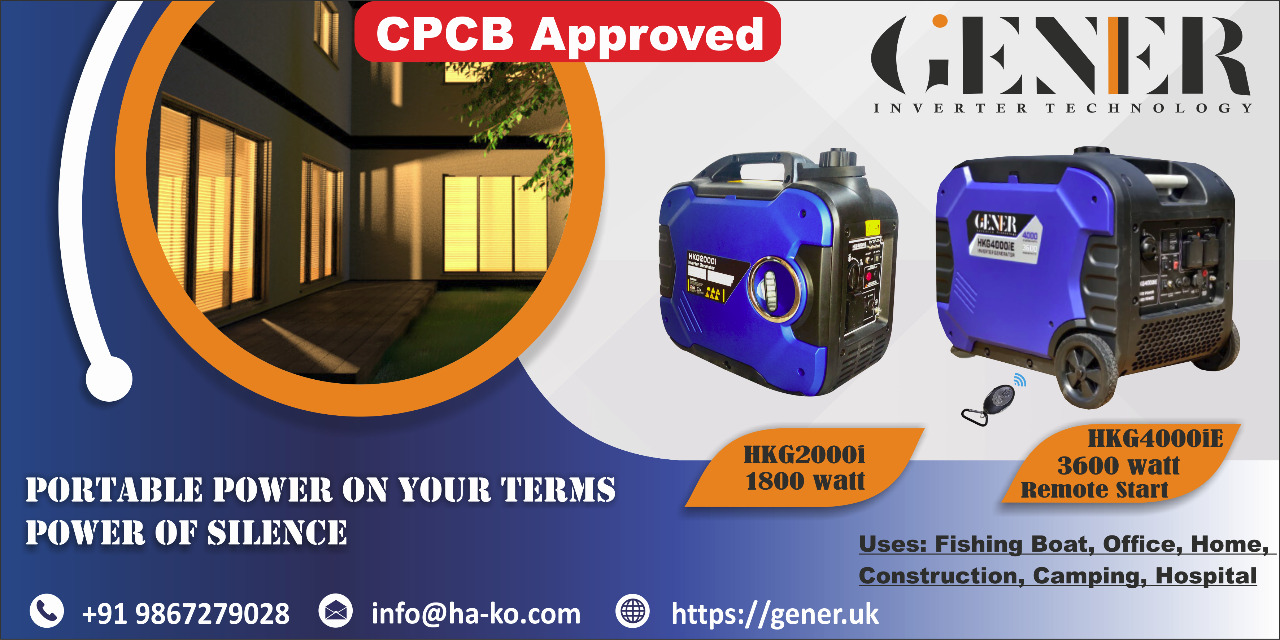 GENER brand CPCB approved Super Silent Portable Generators
https://hkonline.in/in/c/Generator/136
Super Silent Inverter Technology Generator
Super silent generators are available in 2kva and 4kva models, features all latest technology having inverter controlled power output with zero fluctuation, load sensing fuel system for better economy, Low emission, portable etc.
Quiet, Compact, Easy to use. AC rated output running Watts: 1800, AC maximum output starting Watts: 2000. Rated 230 VAC
Truepower technology provides clean, stable power ideal for sensitive electronics, tools and appliances while the 4 Litre fuel tank allows 6 hours of run time at 50% load, with fuel economy of only 0.6L & on Full load 1.3L per hour.
Electronically controlled circuit breaker to protect the alternator in case of overload.
Low oil safety, will not allow the engine to run in case of low oil.
Built-in handle makes it easy to transport and the integrated OFF/RUN/CHOKE knob simplifies startup procedures
Economy mode provides excellent fuel economy and noise reduction while the LED status lights alerts you on low-oil, overload and power
OPTIONAL Parallel ready allows you to connect 2 inverters together for twice the power (parallel kit model sold
separately)
Assembled in India, tested for longer hours of usage.
Model :

HKg2000is

Max. AC Output (Kw) :

2.0

Rated AC Output (Kw) :

1.8

Noise (dB/7m) :

57 (no load)

67 (on full load)

Fuel Tank Capacity(L) :

4

Run time at 50% load (H) :

6

Engine Model :

Hk80i, OHV single cylinder air cooled

Engine throttle:

Electronic governor (load sensitive)

Bore x Stroke (mm) :

48.6x43

Choke:

Auto

Starting:

Recoil

Output panel :

Industrial heavy duty socket 230vAC | 12V dc 8.5A

Control Panel Display:

Low oil, Overload alarm, output indicator

Ac circuit protection:

Yes